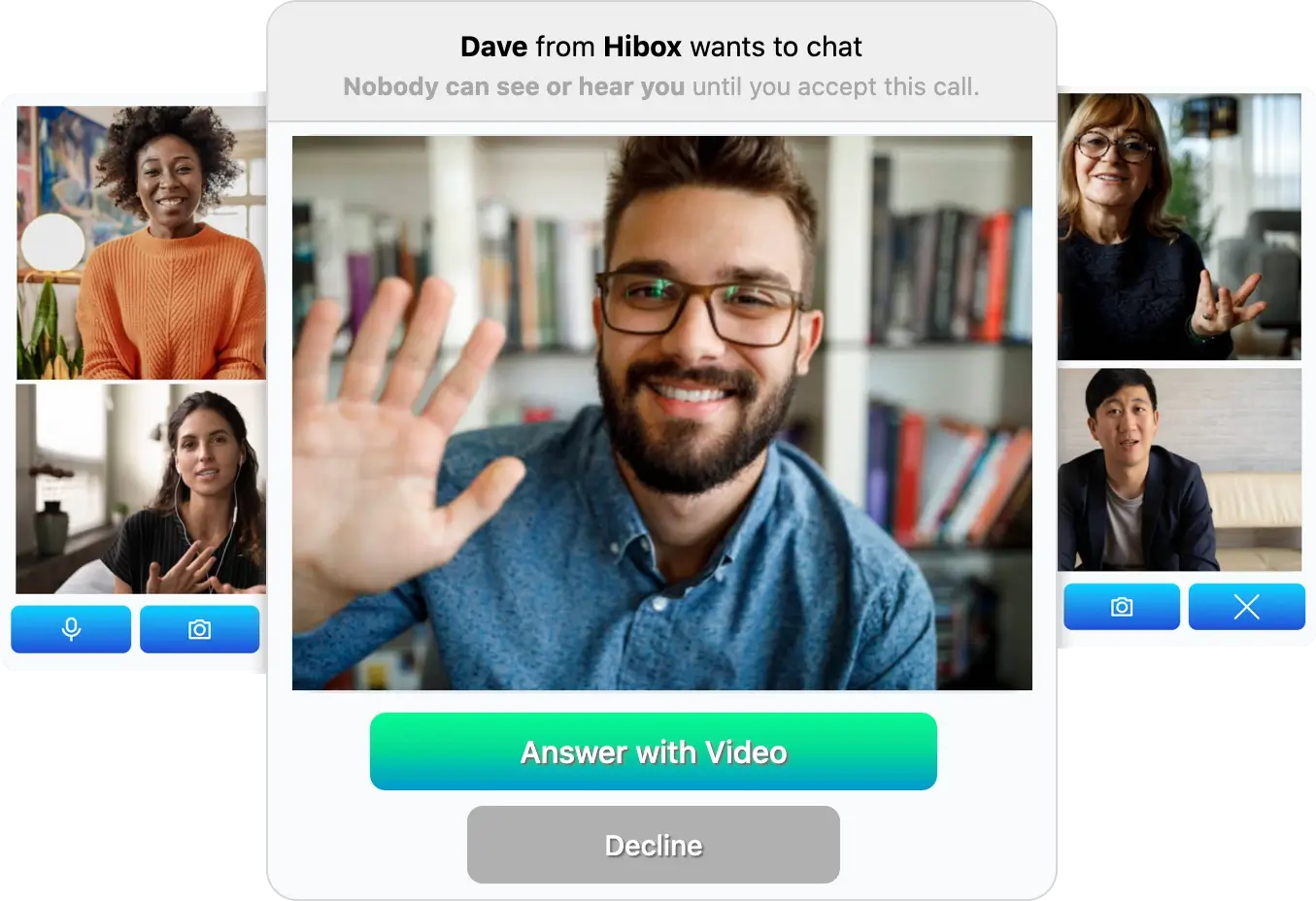 Say Hi to
more sales

:)
Hibox lets you video chat with your visitors while they're browsing your website.
How You Sell More with a Hibox
1
See and filter all your visitors in real time
2
Start video chats with guests as they use your app
3
Watch your sales increase!
Convert 10x more of your ad traffic.
With a Hibox, you can identify visitors based on where they came from and which ad they clicked on, so you can target high-value traffic for priority sales support.
Frequently Asked Questions
What is Hibox?
---
How does that help me sell more?
---
Can I customize my Hibox?
---
Do I call customers, or do they call me?
---
My website gets lots or a little traffic, is Hibox right for me?
---
How much does it cost?
---
Who made Hibox and why?
---
Hibox is suited for SaaS sales, eCommerce, founder feedback, and customer support.
🎯 SaaS Sales and eCommerce
Video chatting with your customers shows that you're a real company, that you're responsive to customer needs, and helps you answer your customer's questions.
💬 Founder Feedback
Talking directly to potential customers with a Hibox is the single most important thing you can do on your quest to find product-market fit.
🦸 Customer Support
Put a Hibox inside your app, and you can provide real-time support to customers as soon as they need it!
Need more salespeople? We've got you covered.
If your Hibox is working well but you don't have the people to staff it, don't worry - you can add remote, elastic salespeople to help you cover peak traffic time!
"Half the advice I give to startups is: talk to your customers."
- Paul Graham, Founder of YCombinator (via Twitter)
Adding a Hibox to your app is the single best way to talk to your customers. Don't waste time begging users to fill out surveys - have a video chat with them as they're browsing your site! Find your product market fit!
Selling physical goods? Demo products in real time!
Put a Hibox on your store, then you can help customers with their shopping by showing them real goods, not just pictures.
Try Hibox for 30 days free!
Only $49

/ month

and $9

/ month

for each additional user after that.
"Without Hibox, you're wasting a significant portion of your ad spend"
⋆⋆⋆⋆⋆
"Hibox vastly improved our ability to qualify leads and identify potential sales"
⋆⋆⋆⋆⋆
"Quick, high-quality feedback was necessary for validating our market. Hibox is a must!"
⋆⋆⋆⋆⋆
:) Hibox
Made with ☕ in western Norway.
Contact Us
Reach us any time at hi@hibox.live
Jones Digital
Bryggen
Bergen, NO 5032
© 2023 Jones Digital. All rights reserved.